August 22, 2020
Sawgrass Marriott
5th Annual IPPOLITA Jewelry Drawing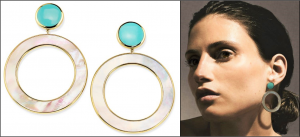 Ippolita Lollitini Stone Dot and Open Circle Slice Earrings feature a disc in mother-of-pearl that hangs under a turquoise circle, both framed in a fine 18K gold setting.
Retail Value: $2,495
1 ticket -$20.00 / 3 tickets -$50.00
Proceeds from the earrings drawing will benefit Angelwood's mission of proudly providing unparalleled services to children, adults and families living with disabilities. Drawing will take place at the Angelwood Gala on Saturday, August 22, 2020. 
To purchase tickets visit here. 
Thank you to our 2019 Gala Sponsors